In today's fast-paced world, where everything is customizable, why should your financial planning tool be any different? With the latest update of Cashculator, we are thrilled to introduce new themes that allow you to personalize your financial planning aesthetic like never before. From subtle and modern to fun and vibrant, Cashculator's new themes offer a visual transformation that matches your unique style. Each artist-created color theme offers light and dark mode variations so you can enjoy it at any hour, however you have your display set.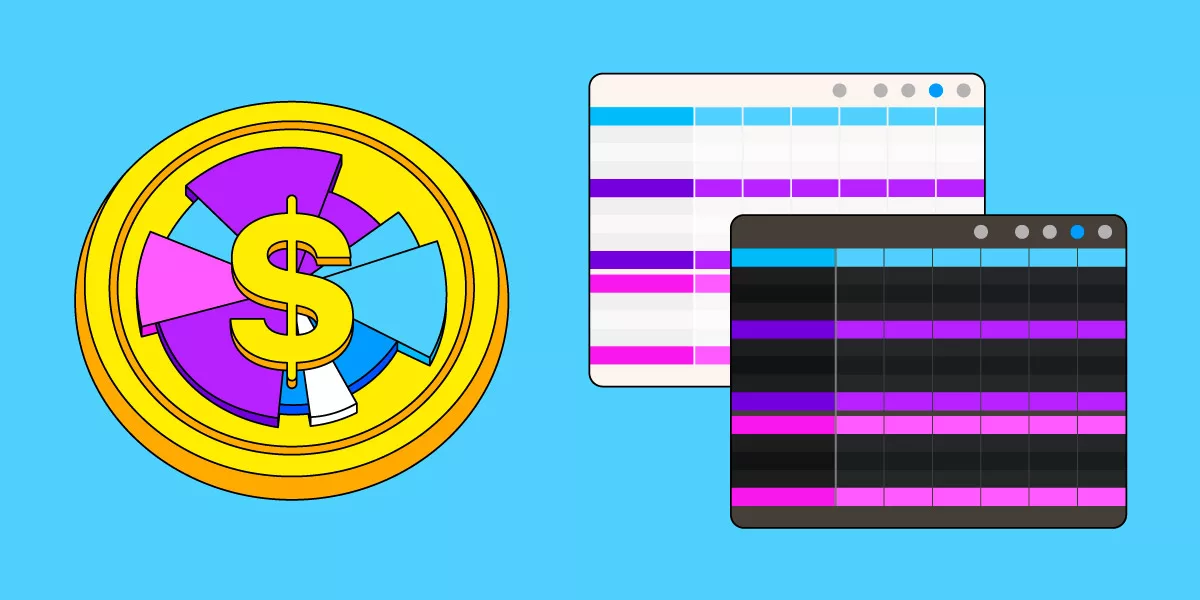 Accessing Color Themes in Cashculator
Before exploring each theme, it's important to know how to access them. To do this, simply navigate to the menu bar at the top of your Mac screen and click on Cashculator, then select Settings (or just use the Command-, keyboard shortcut). In the settings window, you'll have the option to choose between Light and Dark appearance, explore various color themes, and even create a custom theme of your own by clicking on Manage Themes. If you'd like to learn more about creating a custom theme, check out this article.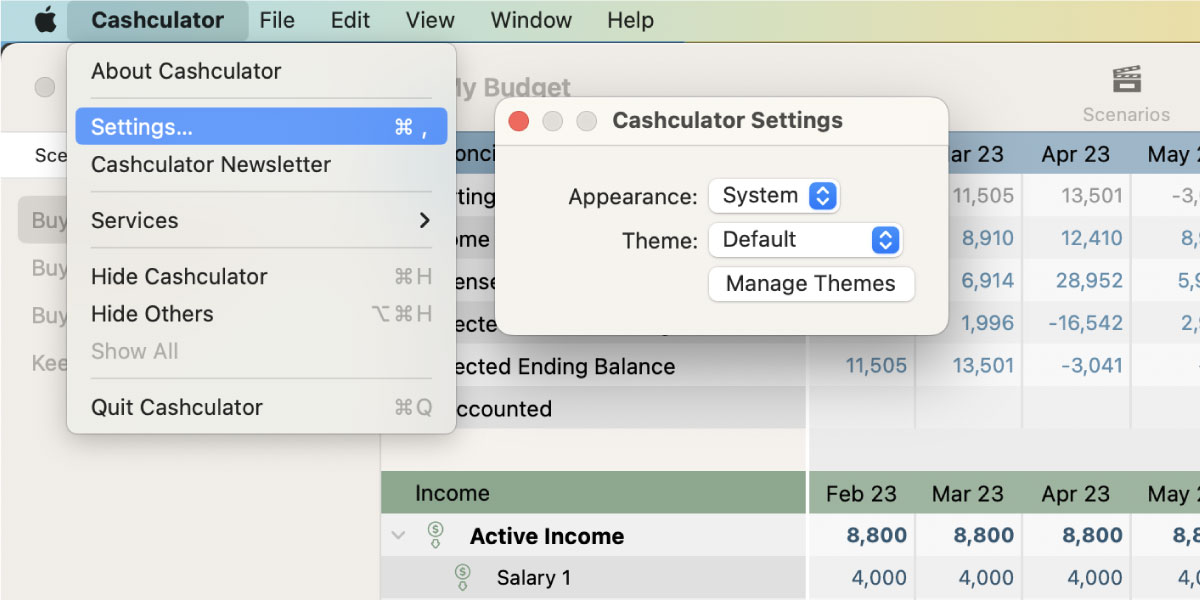 The Default theme of Cashculator embodies a perfect blend of elegance and simplicity. With its soft and understated colors, this theme creates a soothing and unobtrusive environment for your financial planning. It allows your financial data to take center stage, without any distractions. The Default theme reflects Cashculator's commitment to providing a user-friendly and intuitive experience, where your focus remains on your financial goals and making informed decisions.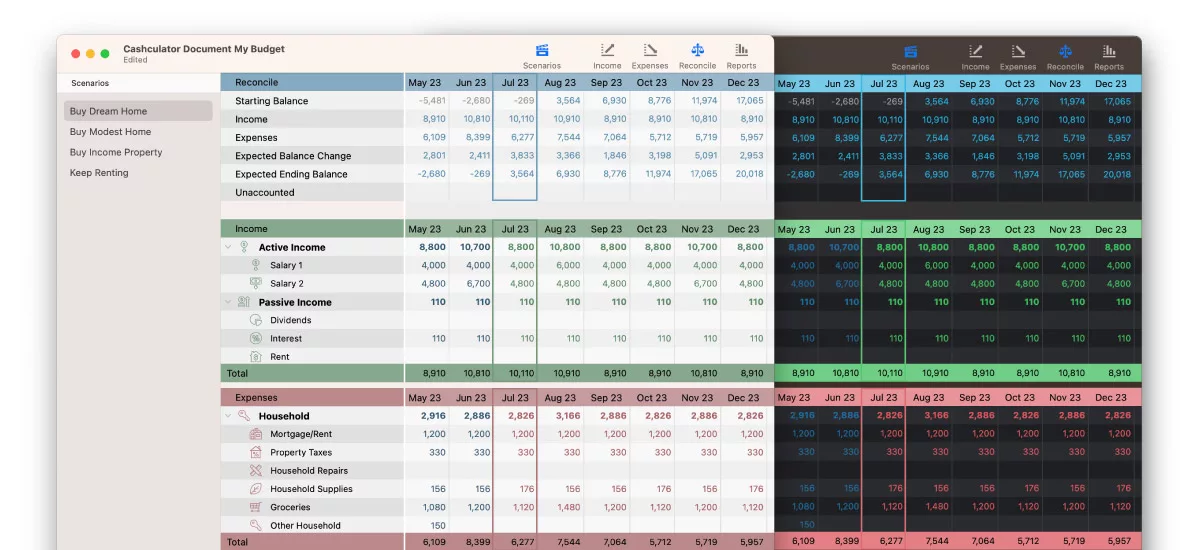 The Dynamic theme of Cashculator injects energy and excitement into your financial planning journey. With its bold and lively colors, this theme brings a sense of vibrancy and enthusiasm to your financial data. Each element on the screen comes to life, creating a visually dynamic experience that engages and motivates you. Whether you're setting ambitious financial goals or tracking your spending, the vibrant Dynamic theme adds a touch of liveliness to your financial planning process.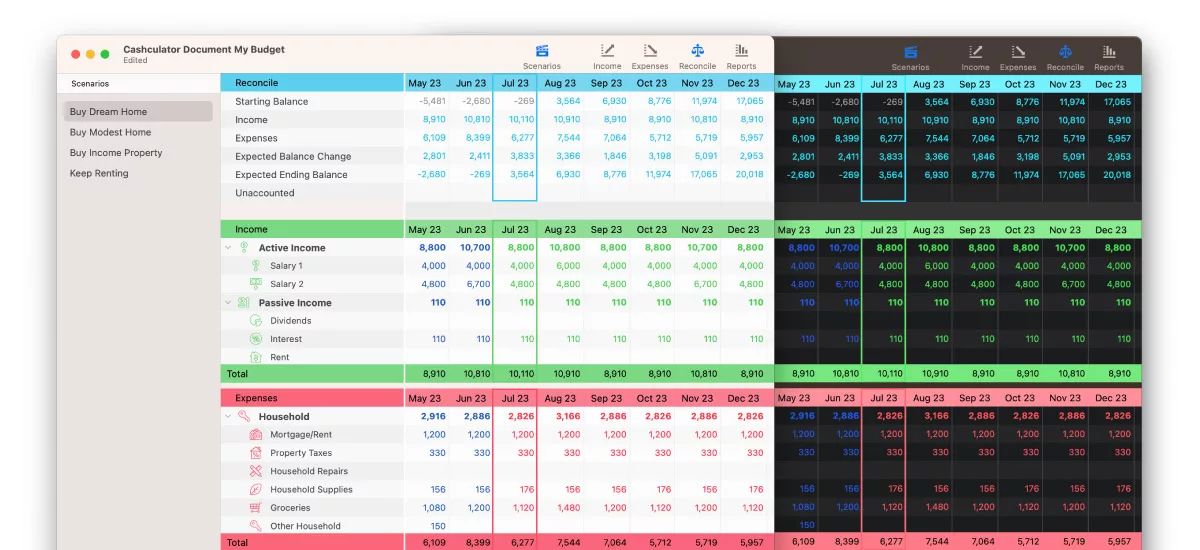 The Sepia theme in Cashculator adds a touch of nostalgia and warmth to your financial planning experience. With its warm, earthy tones reminiscent of old photographs and vintage books, this theme creates a sense of timelessness and tranquility. The Sepia theme is perfect for those who appreciate a classic and elegant aesthetic. Alas, it does not roll back expenses to 1870s prices, although we wish it could.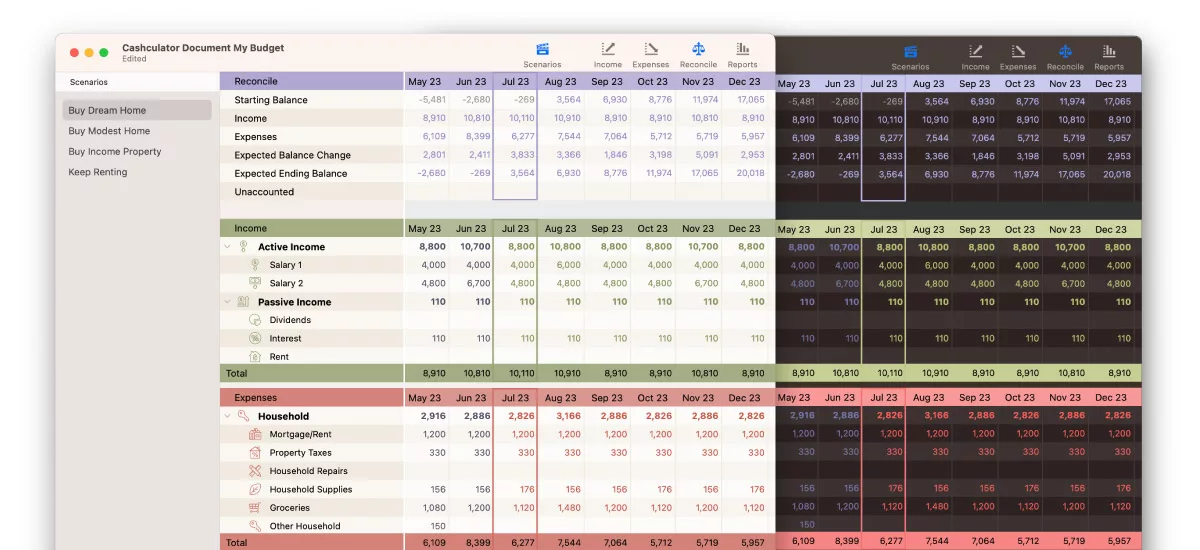 The Onahau theme in Cashculator is a refreshing and invigorating addition to your financial planning experience. Inspired by the pristine beauty of crystal-clear waters, this theme immerses you in a sense of serenity and tranquility. With its cool blue hues, the Onahau theme creates a visually captivating environment for your financial data.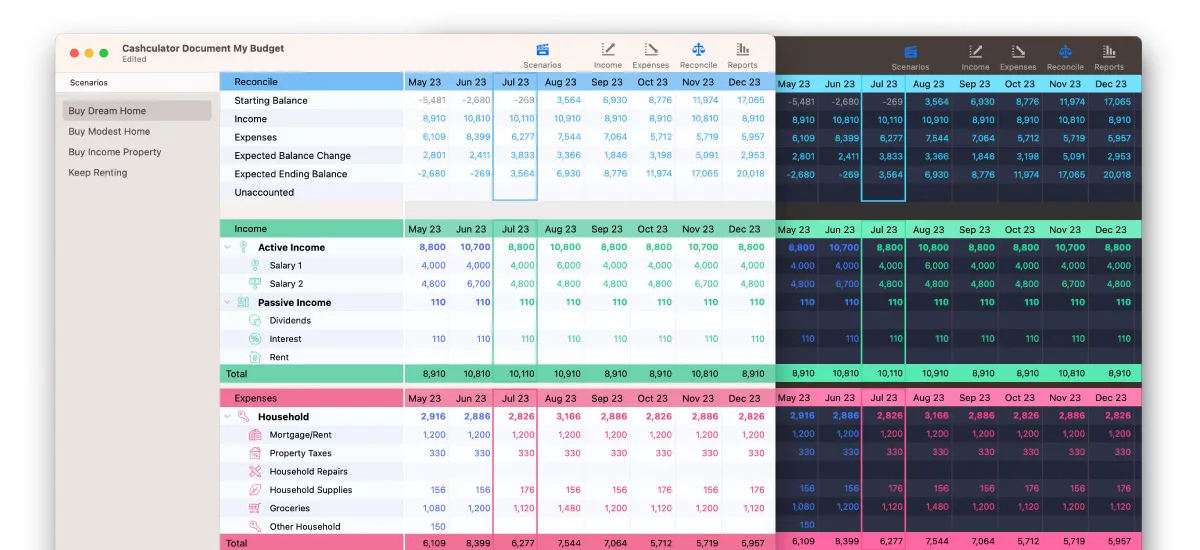 The Pastel theme in Cashculator presents a delightful and soothing experience for your financial planning. With its soft and gentle colors, this theme adds a touch of whimsy and elegance to your financial data. The Pastel theme looks best when paired with the dark mode feature in Cashculator. The combination of pastel colors against a dark background creates a stunning contrast that is both visually appealing and easy on the eyes.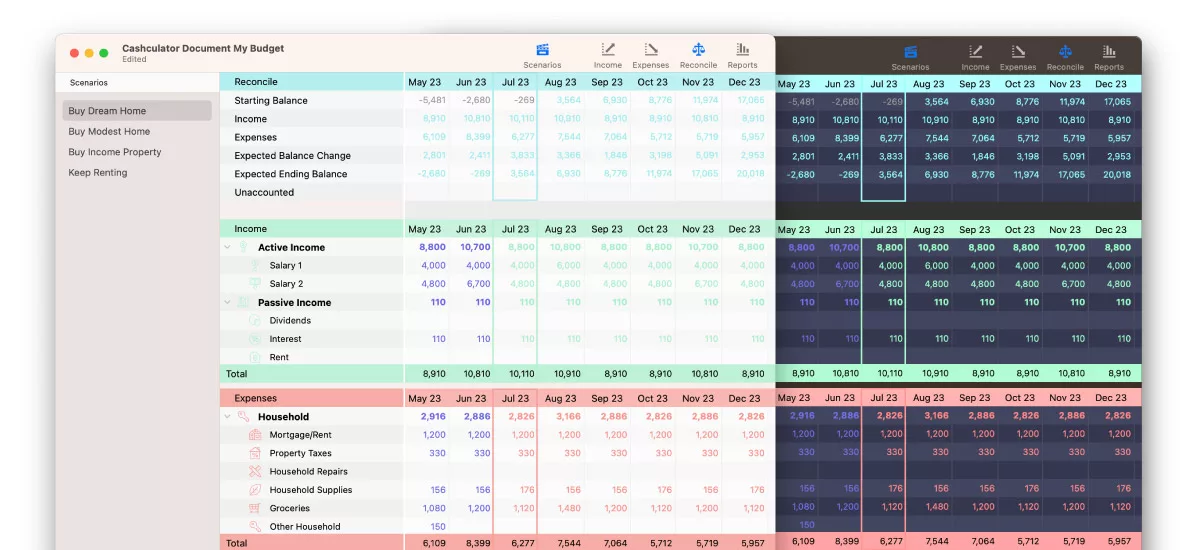 Cashculator's new themes offer a range of options to personalize and enhance your financial planning experience. From sleek and sophisticated to vibrant and energetic, these themes allow you to customize the look and feel of your financial data. If you'd like to read about Cashculator's color-blind-friendly themes, click here.
Ready to take control of your spending?
Wish you could forecast future income, expenses and cash flow? Check out Cashculator — Personal Finance today.
Learn how the program works using the free version, then choose a monthly or yearly subscription to unlock unlimited income and expense categories.